SAP FIORI Landscapes
Welcome Back to our second SAP FIORI tutorial! In this one, we learn about the 2 types of SAP FIORI landscapes. As we know, in a SAP installation, business data is present in ECC/CRM/SRM, but as we discussed in our previous tutorial, now we have the capability to access this data in a Web Browser (FIORI Launchpad). 
How does this data reach the browser?
Central Hub Vs Embedded deployment – SAP FIORI Landscapes
1. Central Hub Deployment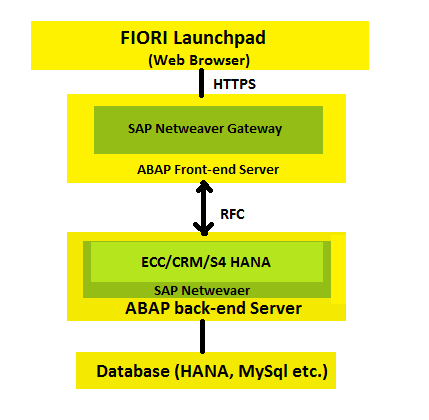 Here, ECC server contains business data which is to be shown on FIORI Launchpad. A intermediate layer – SAP Netweaver Gateway (G/W) is used to handle HTTPS calls from browser towards ECC and in return pull data from ECC towards FIORI Launchpad. This data is pulled in form of ODATA services. ABAP Back-end and front-end are independent servers connected via two-way RFCs.
You may connect more than one Source System to same gateway.
2. Embedded Deployment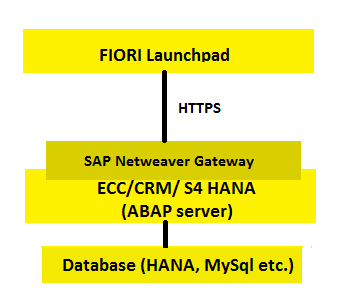 In this Landscape, Netweaver Gateway sits on ABAP server. Here, No need of separate servers. But you cannot connect multiple Source Systems now. An RFC is still required to establish connection between ABAP Server and Gateway.
SAP recommends Central Hub Deployment due to following advantages:
Decoupling the lifecycle of the UI apps from the back-end

Changes to the UI are possible without having any development authorizations in the back-end.

Browser support and updated versions of SAP UI5 libraries can be performed without touching your Business system
But Customers tend to prefer Embedded deployment to save cost of maintaining an extra server.
Thus there is no clear answer on which one to pick. It each side has its own pros and cons. As a consultant, you would need to make an informed decision keeping in mind the above differences and also the cost sensitivity of the client.
Share this Tutorial with your colleagues using following Social Platforms and comment with your thoughts, suggestions and questions.